Local Attractions and Places to Visit
Places to visit and things to do abound in the Ingleton area - in the village itself, in the hills and dales of the National Park and a little further afield. The places and attractions listed here are a but a few of them. Whilst every effort has been made provide accurate information please check the opening hours etc before travelling.
Inglesport Climbing Wall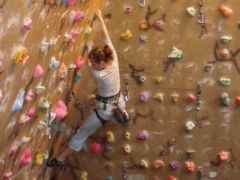 We have over 300 square meters of lead climbing wall with in-situ quickdraws and lower-off belays and there are routes to suit all abilities from novice to crag rat. There are 150 square meters plus of bouldering walls at various angles with many colour coded problems.
Web: inglesport.com
---
Ingleton Open Air Swimming Pool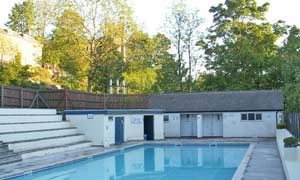 In it's riverside setting, Ingleton's open-air heated swimming pool is an idyllic place to swim. Open for around three months during the summer season, the pool has recently been improved and modernised and is a popular attraction with both locals and visitors.
For more information visit ingletonpool.co.uk
---
Ingleton Pump Track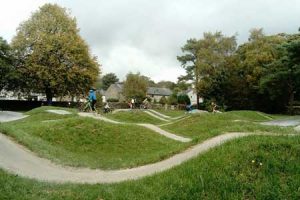 BMX Pump Tracks are non-racing tracks that are designed and built for small areas. Increasingly popular in recent years, BMX Pump Tracks are ideal for beginners or for those looking to improve their biking skills, riding BMX or a mountain bike.
They are typically shorter and narrower than standard BMX race tracks with a circuit of rollers, berms and jumps that usually loops back on itself so that riders can keep on going. Perfect for practicing, they are safe to ride and fun for all ages and skill levels. Not only do they build up BMX riding skills, but Pump Tracks are also an excellent way to promote health and fitness.
The Ingleton Pump Track is on Back Gate, close to the i-Centre and we ask that you use the public pay & display parking just a short distance up, by the community centre. The pump track is FREE and ALL are WELCOME.
Please enjoy safely.
---
Ingleton Waterfalls Trail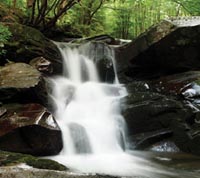 The famous Ingleton Waterfalls Trail in Yorkshire offers some of the most spectacular waterfall and woodland scenery in the North of England. The trail leads you through ancient oak woodland and magnificent Yorkshire Dales scenery via a series of stunning waterfalls and geological features.
The total length of the trail is 4 miles (8km), so you should allow between 2 and 4 hours to complete it. The trail follows a well-defined footpath over moderately inclined ground and steps are provided wherever there is a climb. Unfortunately the footpath is unsuitable for wheelchairs and pushchairs.
For more information visit ingletonwaterfallstrail.co.uk
---
White Scar Cave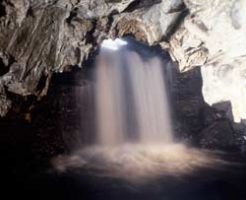 As the longest show cave in Britain, White Scar Cave is a hidden world which has been sculpted by nature over thousands of years. with an expert guide, you will explore a spectacular subterranean world of cascading waterfalls and caverns adorned with thousands of stalactites.
Web: whitescarcave.co.uk
---
Ingleborough Cave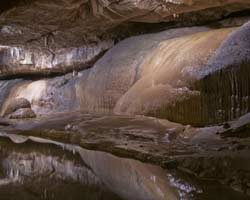 Ingleborough Cave has an awe inspiring range of stunning cave formations. The imposing cave entrance and the large passages are full of artefacts dating back millions of years along with the evidence of the significant impact of the Ice Ages.
The tours of the Cave leave from the entrance at regular intervals with an expert guide to help interpret the many features you will see.
---
Gaping Gill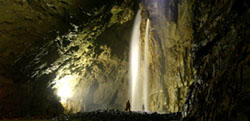 Gaping Gill is one of the most famous caves in the Dales and one of the largest underground chambers in Britain. The main chamber measures 129m long, 31m high, and 25m wide. Fell Beck pours over a lip of rock above and crashes 100m to the floor of the cavern before draining through to Ingleborough Cave.
The Gaping Gill cave system is one of longest and most complex in the UK – in fact, it wasn't until 1983 that members of the Cave Diving Group made the connection between this cavern and Ingleborough Cave.
You can reach Gaping Gill from Clapham by walking past Ingleborough Cave and up on to the slopes of Ingleborough. You need to take care around the entrance as it is unfenced.
Nowadays members of the public can descend to the main chamber twice a year when the Bradford and Craven pothole clubs set up a winch over the main shaft entrance.
For more information visit either: Bradford Pothole Club or Craven Pothole Club
---
The Yorkshire Dales National Park and Three Peaks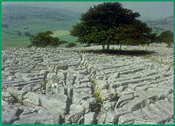 The Yorkshire Dales National Park is a special place: it has outstanding scenery, a range of wildlife habitats and a rich cultural heritage. It is a fantastic outdoor arena for recreation and peaceful relaxation and a haven for wildlife.
Within its boundary are the mountains Pen-y-ghent, Ingleborough and Whernside, collectively known as the Three Peaks and areas of limestone pavement which are of national and international biodiversity importance.
---
Malham Cove
Malham Cove is a curved crag of carboniferous limestone formed after the last ice age. Meltwater, particularly from Malham Tarn, cut back the cove as it fell over the edge as a waterfall. This erosion took place more actively at the lip of the fall rather than at the sides, hence the curved shape.
The peregrine falcon is one of the most impressive birds of prey in the country and we are very fortunate that they have nested at Malham Cove in the Yorkshire Dales National Park since 1993. The Royal Society for the Protection of Birds (RSPB) and the Yorkshire Dales National Park Authority (YDNPA) run a viewpoint so that you can see these wonderful birds along with many other birds that are characteristic of this upland area.
Web: malhamdale.org.uk
About the Peregrine Falcons
---
RSPB Leighton Moss
Leighton Moss is the largest reedbed in north-west England, and home to some really special birds such as breeding bitterns, bearded tits and marsh harriers. You might see deer too, not to mention butterflies aplenty!
Choose from a selection of trails and hides, most of which are suitable for wheelchairs, and get right to the heart of the reedbed. Or take the nature trail alongside two coastal lagoons to see lots of wading and water birds (ask in the visitor centre for more details).
Children will love finding out more about the reserve from the displays in the visitor centre and you can also enjoy a home-made meal and a drink in the tea room.
Web: rspb.org.uk/reserves/guide/l/leightonmoss
---
Settle-Carlisle Railway
Running through some of the most attractive scenery in the Yorkshire Dales and Cumbrian Fells, the Settle-Carlisle railway is world famous for its Victorian architecture, huge stone viaducts, long tunnels and remote wayside station buildings.
Ribblehead Station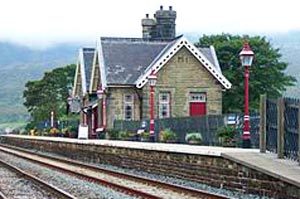 This station is leased by the Settle and Carlisle Railway Trust who have completely restored and refurbished it. There are resident caretakers, a small shop selling memorabilia, and its Visitor Centre includes exhibits about the history of the line and the fight to keep it open.
Web: settle-carlisle.co.uk/explore-the-line/stations/ribblehead
Ribblehead Viaduct

An iconic, 24-arched viaduct and a Grade II-listed building on the Settle and Carlisle Railway. The stone arches of this 400-metre long viaduct rise 32 metres above Batty Moor.
Web: nationalparks.gov.uk/yd-historicplace1
---
Carnforth Station Heritage Centre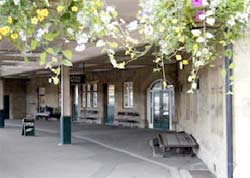 The award-winning Heritage Centre opened in October 2003 after an extensive restoration programme, and is located within a busy working railway station.
The Visitor Centre is housed in the beautifully-restored historic buildings, and offers the visitor a wealth of attractions, facilities and a fascinating range of exhibitions.
The "Brief Encounter" exhibition is dedicated to the classic 1945 David Lean film, the actors and the film's famous connection with Carnforth Station.
---
The Forbidden Corner
The Forbidden Corner at Leyburn was voted top children's attraction in Yorkshire. It is a unique labyrinth of tunnels, chambers, follies and surprises created in a four acre garden in the heart of Tupgill Park and the Yorkshire Dales. The temple of the underworld, the eye of the needle, a huge pyramid made of translucent glass, paths and passages that lead nowhere, extraordinary statues – at every turn there are decisions to make and tricks to avoid. This is a day out with a difference which will challenge and delight adults and children of all ages.
---