St Mary's Church
St Mary's Parish Church has been at the very heart of the Ingleton community for many centuries.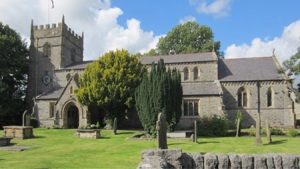 The Church we see today dates only from 1886 but it is possible that there has been a place of worship on the site since the 12th century as the font dates back to Norman times – around 1150. The oldest remaining part of the present Church is the tower of 15th century perpendicular style.
In the 16th century the Church was named after the patron saint, St Leonard. When the change of dedication took place is unknown but by the 18th century the Church had become St Mary's.
In 1743 the Church was substantially rebuilt when the nave was replaced by an unattractive construction that was referred to as a "barn with mill windows".
The Ingleton Parish Registers record that almost 450 people were buried inside the Church. Evidence of these burials emerged when over 300 skulls were discovered when the foundations for the present Church were excavated in the 1800s. Many of the memorial floor tablets from inside the old Church were preserved and now lie in parts of the churchyard.
On 18th May 1886 the foundation stone for the new Church was laid. It can be seen outside the Church underneath the East Window. Designed by Cornelius Sherlock of Liverpool and built by John Hewitson, a local builder, the Church is constructed from blue limestone from Skerwith quarry.
The bank on which the Church stands was formed towards the end of the Ice Age and consists of little more than a pile of boulders and sediment. Unstable foundations, which have plagued the various Church buildings, still give cause for concern. In 1930 and again in 1946 there were fears for the safety of the building and concrete was forced into the cavities which had formed in the raft of boulders used as a foundation in 1743. In the 1960s there were suggestions that a new Church should be built on a different site. The tower and roof were last repaired in 2002.